What does the framework involve?
It's important to understand that this is not an intervention or one-off measure. These can sometimes act as a short-term band aid - superficially covering over the holes. It's a whole-system approach which looks at physical activity in relation to every aspect of school life that can affect outcomes for pupils.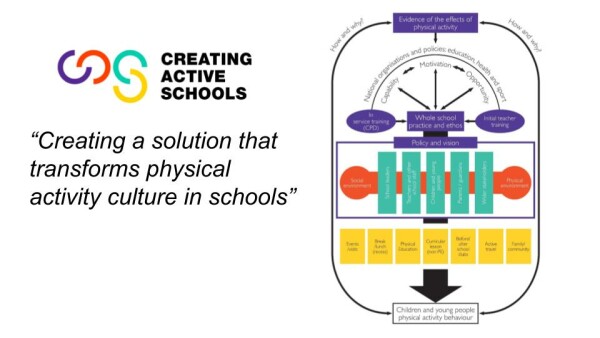 The arrows around the top of the model, 'capability', 'motivation' and 'opportunity', are derived from Michie et al's COM-B model of behaviour change (2011) that's used by public health and the NHS when designing interventions on issues such as smoking cessation or obesity. When you want to change behaviour, you need to address capabilities and motivation not just provide more opportunities and it's exactly the same for schools.
There is no shortage of opportunities to get children active but what we rarely address is the 'motivation' and 'capability' in order to effectively change behaviours - This is why many interventions end up lasting only a couple of months.
Thinking more strategically and bringing physical activity into a school's vision, culture and policies will help with this. Physical activity can't just sit with a PE leader- it needs real senior level prioritisation in order to ripple throughout the whole school.
This is something that has never been addressed before - positioning physical activity at the heart of school strategy, culture, policy, vision, ethos and practice. It's starting where the school is at, understanding what its priorities are and then really thinking strategically about how physical activity can support better outcomes in those priorities.

Active learning is a big piece of our work; simply increasing the amount of time children are up and moving around the classroom. There is a lot of research that shows physical activity improves memory retention and understanding.
Schools have told us that a barrier to this can be the perception from leaders about what 'good learning behaviours' are and effective pedagogy is. For example, if there's a learning walk with governors or an inspection team and they see children moving and talking around the classroom, that can be perceived as bad practice because children don't appear to be concentrating or working. That's where the social environment part of the framework comes in (see left-hand side of the framework). Teachers must feel empowered to be able to increase physical activity in their classroom. This is a culture change that has to be driven from the top and can be a big obstacle to get over.

The boxes along the bottom are all the tangible opportunities children have across the school day to embed physical activity, all informed by research. Starting from the centre, as you work your way to the left, are areas where the school has control and to the right are areas where the school has an influence. We encourage schools to look at all of these areas.