So how do we make your role easier?
As an example of what VMFI can offer, let's examine a fictitious organisation, that could represent an academy trust or a local authority named Coketown.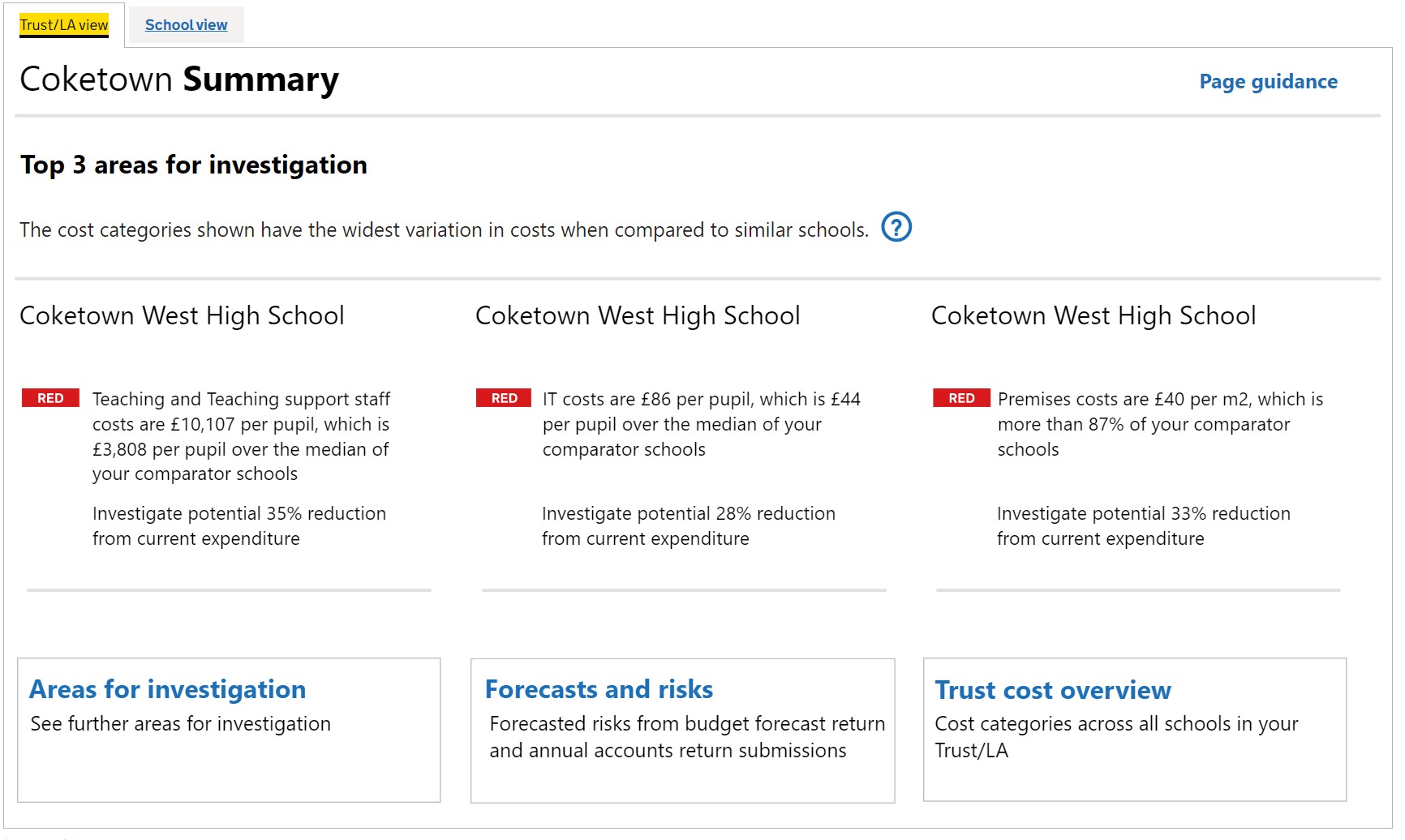 Here, VMFI can help you identify potential areas that might need further investigation. In our Coketown example shown above there are two areas of spend – IT costs and premises costs – that are being flagged as potential areas to investigate. These areas have been identified by comparing each of the school's costs to their 30 most statistically similar schools (for full guidance on how this is done, please visit our guidance pages) and highlighting where the schools are most out of line with their comparators. VMFI also offers this view at an individual school level.
These areas may provide discussion points to raise with leadership teams, as this automated assessment of their data provides a set of helpful starting points to investigate from. They represent particularly high or low spend compared to your 30 comparators and are not necessarily problems that need to be tackled. A school or trust with historically low spend on IT may have perfectly justifiable reasons to increase spend in certain years. Similarly, if a school has decided to replace the carpets throughout, then they may have higher premises costs that particular year compared to similar schools who have their business-as-usual costs. This would be a conscious spending decision from the school and the data should be paired with the school's financial strategy to determine priorities. What we can provide is the raw data in a visual manner for you start conversations with your schools and trusts.
Digging further into VMFI, a full ranked list of cost categories is accessible on the area to investigate page. You can filter on just an individual school if you are only involved in one school.
On our school-level cost categories page, you can examine how the individual school compares against its 30 peers. You can select the individual cost categories to identify any areas of high or low spend and easily see where the school may be an outlier. Each school has two different comparators groups: comparators by pupil characteristics and comparators by building characteristics. The reason for this is that some costs in schools (e.g. utilities) are driven more by the nature of the buildings than the pupils within it.
On top of identifying the potential areas for improvement, VMFI also provides possible ways to help address any issues. If the spend is particularly high, the tailored recommendations, such as those next to the exclamation mark, will appear. The tool offers easy access and links to frameworks, contracts and guidance for the cost category being looked at. These links provide gateways to the commercial resources on offer from the department that may lead to reduced costs.
You can also view a full list of all the recommendations for your school. The links to these resources are designed so that you and the senior leadership team can easily access the offer from the Department and examine whether they would be a suitable option for your school. There is no stipulation to use any of these.
Finally, for academy trusts we also provide a short two-page Summary of Finances that offers a snapshot of the current financial position at the trust level. This can be used as a 'starter for ten' for any governance discussions and can provide useful information for those who do not wish to delve too deeply financial areas.
To access VMFI, please discuss the tool with your senior leadership team. You can set up your account by following the instructions below. You can also contact the team by using the ESFA enquiry form here. If you wish to offer any feedback on VMFI you can contact the team at [email protected]. The DfE will also be holding training webinars specifically for governors and trustees which will feature a full demonstration of the tool, highlights of its key features, and an open Q&A session.