Damian Joseph Bridgeman is a fully remote governor who lives in Wales but volunteers in England
Damian has a portfolio career as an investor but also advises the Welsh government on health and social care issues.

"I didn't want to be a governor in my local area as I wanted an opportunity to find out about governance in England. I'd heard from Governors for Schools that remote governance was possible, so I signed up."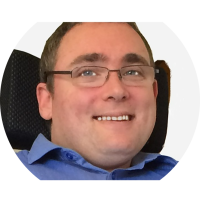 Damian has used his expertise and lived experience to inform his role, "I'm lucky enough to be a remote governor in a special needs school. I went to a special needs school myself and want to make sure that families get the proper support around health and social care issues. I thought my background would come in handy."
The school has benefited from what Damian calls his 'citizen learning', "I'm able to articulate what it feels like to be a special needs pupil. I'm actually severely dyslexic as well as having cerebral palsy and it wasn't until very late in my educational journey that I was statemented and it's surprising how common this is. I've used my experiences to inform the school's policy development, but I also bring an academic viewpoint as well."

As he hoped when signing up, Damian has also gained professionally, "It's helped me to understand the intersection between health, social care, education and even the welfare system, because the school serves some very deprived families. It's helped me in my advisory role to be able to use real-life examples."

Despite being the only person dialling in remotely, Damian says the setup works well and he's hoping to go to the school in-person soon, "I'm looking forward to going to visit and meet the staff and headteacher and really get to know them."